Find what you're looking for on G Suite with Cloud Search
Andika Pratama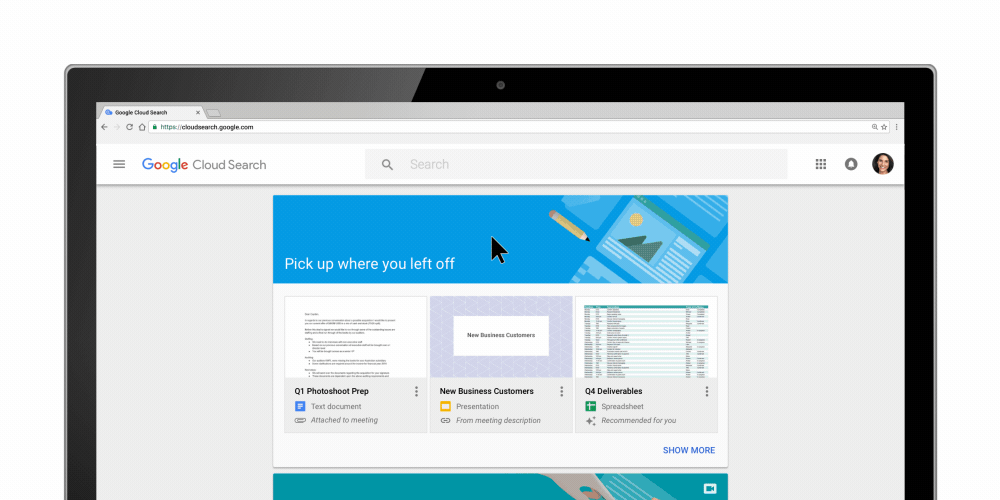 "Just Google it", a phrase that we always use whenever we want to find answers or look for something that we can't find ourselves. Google has made a name for itself for being the go-to search engine for everyone across the globe. In fact, we see more than one trillion searches each year.
But that's for the consumers. What about businesses? How are employees going to look for specific internal documents among thousands of other documents? Well, Google has a solution for that. Last year, the Mountain View company introduced Cloud Search (formerly known as Springboard) that uses machine intelligence to provide a unified search experience across G Suite.
What is Cloud Search?
Cloud Search brings the best of Google Search and machine intelligence to G Suite. It provides both comprehensive search and proactive recommendations to help you throughout your day.
Sorting through internal information has become increasingly complex as more and more companies move their data and workloads to the cloud. As a result, teams are working on hybrid environments and storing immense amounts of data all over and in various formats. From emails and docs to spreadsheets, slides, forms, internal sites, and more. In fact, according to McKinsey, the average knowledge worker spends 20% of the workweek searching for and consolidating information. Simply put, employees are wasting a lot of time in the process of finding information they need to do their job.
How does Cloud Search work?

When you open the Cloud Search app on your phone or laptop, you'll see relevant information organised into simple cards (assist cards) that help you stay on top of your work. Assist cards are a new way to help you find the right information at the right time. Using Google's machine intelligence technology, these cards can help you prepare for an upcoming meeting or even suggest files that need your attention.
Assist cards are designed to be timely and relevant so that you can navigate your workday more efficiently. As Google continue to learn how information is most useful to you, it will be adding more assist cards to Cloud Search over time.
As you type a search query in Google Cloud Search, you see suggestions to autocomplete your search. These customised suggestions help you find exactly what you're looking for more quickly. The suggestions you see are based on information from your G Suite services and the searches you've done in the past if your search activity is saved. Google saves your searches when you use Cloud Search and have your account activity turned on. You can pause or remove your information at any time.
You can refine your Google Cloud Search results by using the filters at the top of the results page. Search filters narrow your results based on specific criteria, such as the content type or time period. For example, you can select filters to see only Google Docs that were edited in the past week, or only emails sent by you. You see filters for only the services your organisation has turned on for you.
If you do a new search, any filters you previously applied stay in place. For example, if you filter by Mail, then do a new search, you only see Mail results, unless you select All or another source. Tool filters also remain active when you switch sources, unless they aren't supported by the new source. For example, if you filter on Drive and Owned by me, then select Mail, results filter by Mail, but search tools automatically clear because Owned by me doesn't apply to Mail.
In addition to searching for information, you can also search for people listed in your company's directory. You'll see colleagues' contact details, plus events and files you have in common. You can even choose to send an email, make a call, or start a Hangout with just a tap.
For businesses, privacy is a top priority. Cloud Search respects G Suite's file sharing permissions, so people can only search for and find files that they have access to. This means that company resources like vacation policies can be found by everyone in your organisation, but your team projects will only surface to people on your team, and your to-do lists will only be available to you.
In the coming months, Cloud Search will also start to integrate with other enterprise systems such as Sharepoint, Local File Servers as well as other Enterprise Content Management Systems.
Who can take advantage of Cloud Search?
Cloud Search is available globally for customers using the G Suite Business and Enterprise editions. Google will be adding more capabilities to Cloud Search including integration with third-party applications. That way, you and your team can find, access and make the most of your information in G Suite and beyond.
Learn more about Google Cloud Search here.