Engineered to be the first new-normal-ready intelligent video bar.

VIDEO CONFERENCING. REINVENTED.
With Jabra's industry-leading professional audio, advanced and innovative 180° video technology and a range of unique intelligence-driven features, PanaCast 50 gives you the power to put safe, socially distanced meetings back on the table – whatever your 'new normal' looks like.
In a world where we're more physically separated than ever, you need great audio and great video for your remote meetings. But you also need to make your offices and collaboration spaces safer for everyone who uses them.
Collaboration for the new normal has been reinvented.


From the world leaders in professional audio


180° field of view in Panoramic-4K


Powers a range of intelligent features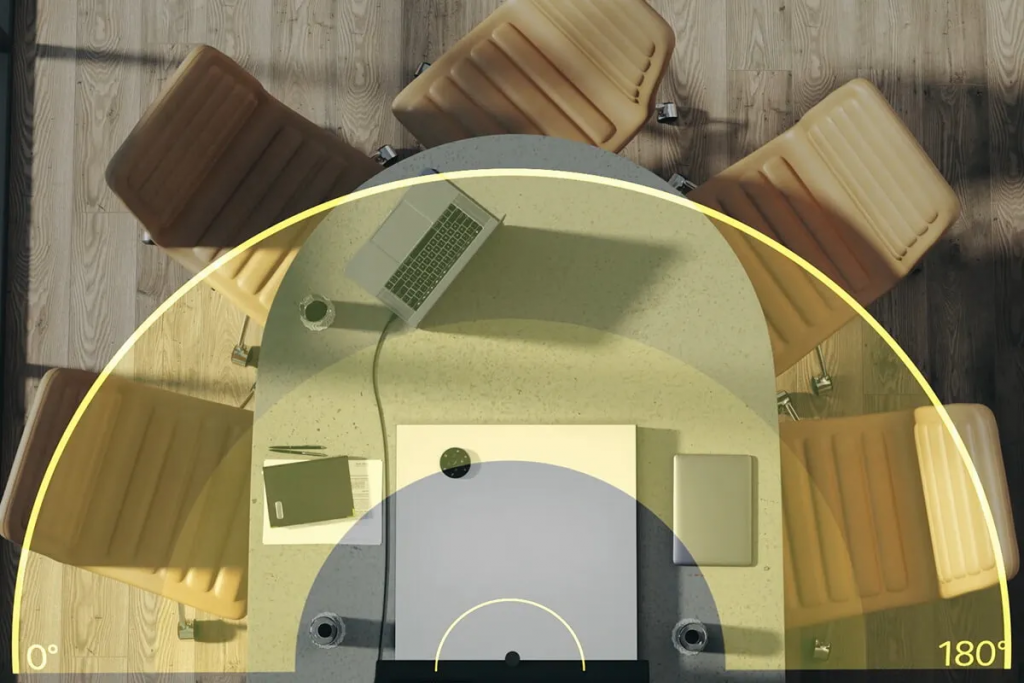 All in.
Three 13-megapixel cameras, mounted in a high-precision, multi-camera array, cover every part of the room.
Jabra's patented real-time video stitching technology intelligently decides exactly the right point to live-stitch the three feeds together, creating a smooth, 180° view in high-definition Panoramic-4K.
That means nobody is squeezed together, distorted or missing from the picture. Jabra PanaCast 50 puts inclusive meetings back on the table, safely.
We've gone all-in on getting you all in.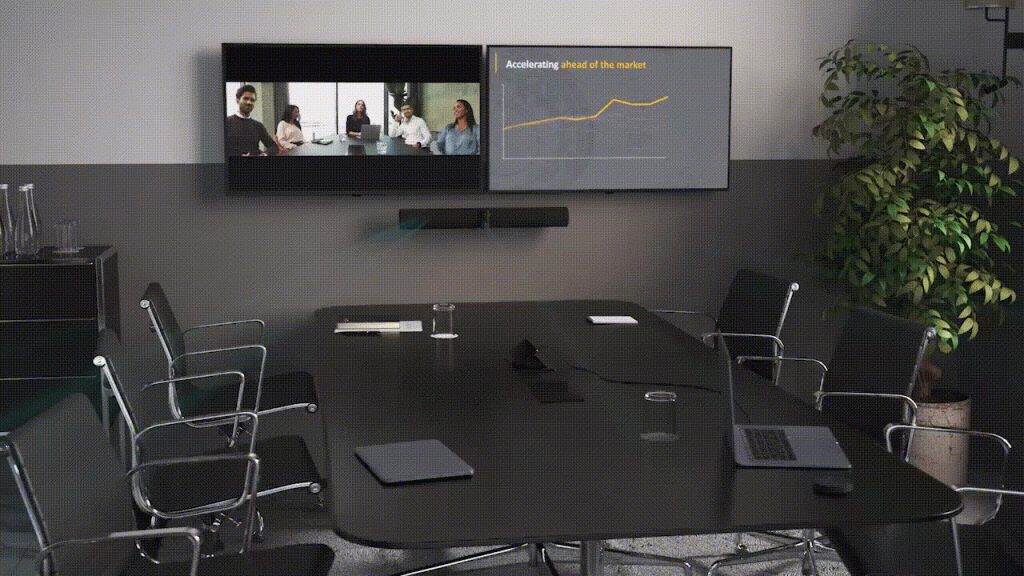 World-leading audio.
Great meetings start with great sound and as the world leaders in professional audio.
Jabra has reinvented meeting room audio for modern ways of working, with eight professional-grade microphones and precision voice detection.
Meetings flow better when everyone can communicate clearly with advanced beamforming technology maximizes the signal-to-noise ratio for crystal-clear voices, anywhere in the room. And with full duplex technology, everyone can contribute to the conversation in real time. 
However you work, Jabra PanaCast 50 is engineered to keep you talking.
Works with everything, everywhere.
Jabra PanaCast works with all leading video and audio conferencing solutions and is certified for use with Microsoft Teams & Zoom. Be confident that your team can connect, whatever equipment they're using.
ENGAGING. IMMERSIVE. HUMAN.


Be a virtual director.
What if your in-room video conferencing tool could automatically detect who's speaking and intelligently adjust the picture to focus on them, just like your brain would refocus your gaze if you were there in the room?
Jabra's high-power Edge-AI processing chips deploy our proprietary algorithms to intuitively follow your meeting, instantly adjusting the frame in real-time to focus only on the active speakers.
The result is a meeting experience that puts the most important content front and centre, so nobody misses out on any of the important details.
Bring the human touch to your virtual meetings.
The analogue goes digital.


Whiteboard streaming.
Our new whiteboard streaming technology lets you live stream and enhance your whiteboard content, so everyone on the call can see it, even if they're not in the room. And unlike other brands, the feature is built in and powered by our 180° field of view.
Intelligent algorithms automatically capture and live-stream your whiteboard content in real time, so you don't need to be present to participate.
We've reinvented the whiteboard for modern working.
Video
Camera Resolution

13 megapixels
Panoramic-4K: 3840 x 1080 @ 30 fps

Field of View

Horizontal: 180°

Vertical: 54°

3 Cameras
Zoom

Up to 6x lossless digital zoom
Intelligent zoom

Virtual Director

Vivid HDR
Audio
4 Speakers
8 Microphone beamforming array
Software and Apps
System Requirements

Windows 7 or late required, Mac OS X 10.9 or later required

Compatible Software & Apps

Jabra Direct, Jabra Sound+, Jabra Xpress

Whiteboard Sharing / Content Camera
Software Development Kit (SDK) 

Manual Pan-Tilt-Zoom (PTZ)
Connectivity
USB-A, USB-C, Ethernet

Supported by USB 2.0 and USB 3.0
USB cable length (2m)
SAVE ROOM SPACE WITH JABRA PANACAST