Features a 10th Generation Intel® Core™ or Celeron® processor, support for up to three 4K displays, WiFi 6 connectivity, Google Play access and USB-C® 3.2 Gen 1 ports.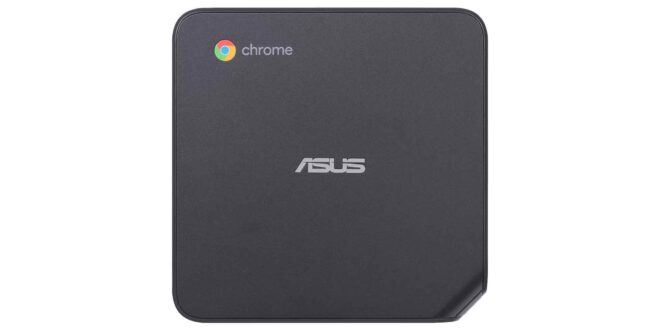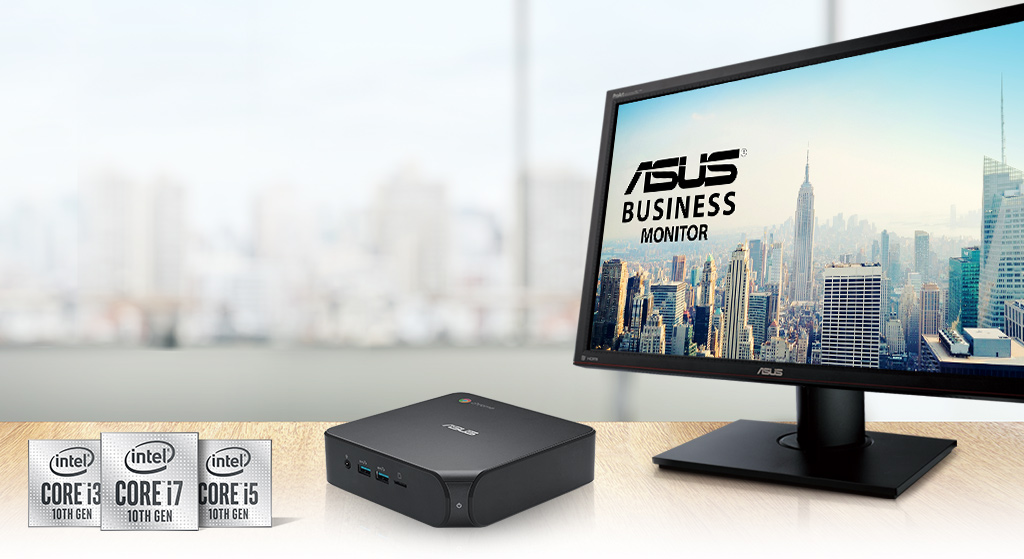 ASUS and Chrome Enterprise Solutions
Offering easy access to Android apps via Google Play, the device lets you enjoy your favorite apps with the power of a mini PC. For the added benefit of Chrome Enterprise, ASUS Chromebox Enterprise 4 option empowers businesses, IT administrators and remote employees with the tools they need for enhanced productivity and efficiency.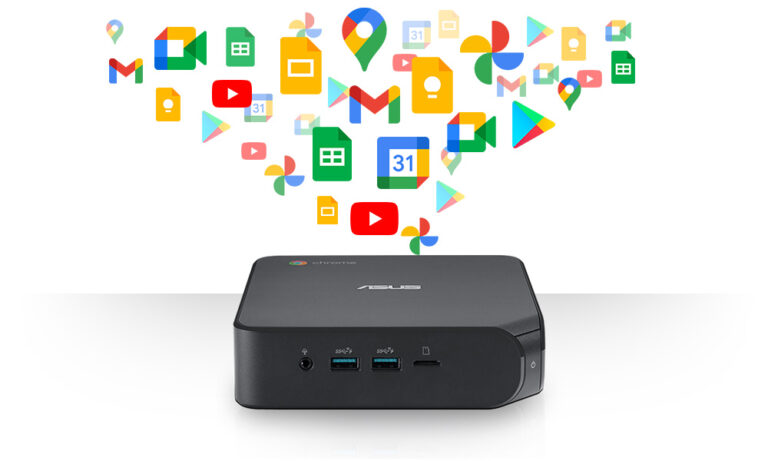 Choose the apps that suit your needs
With a rich selection of Android apps available on Google Play, you can easily find great apps for productivity, communication, entertainment and more for getting the most out of your ASUS Chromebox 4.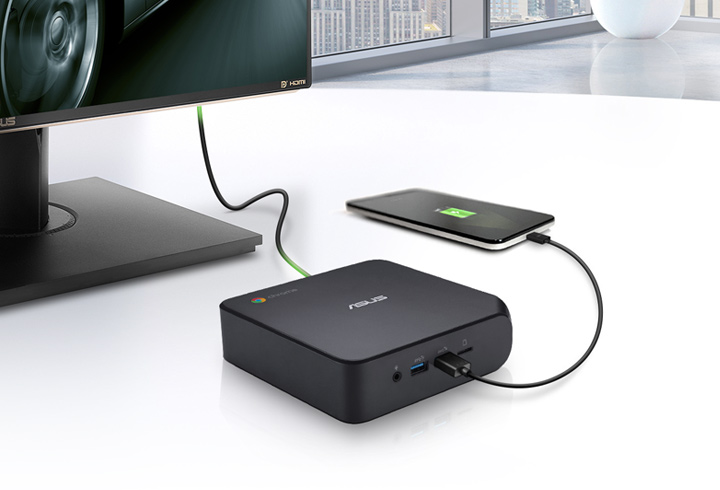 Extensive connectivity with power-delivery technology
With support for USB Power Delivery, ASUS Chromebox 4 can charge a connected phone or accessory and can also receive power from a supported display or other device. This eliminates the need for a separate power adapter and makes it easier to keep your workspace tidy.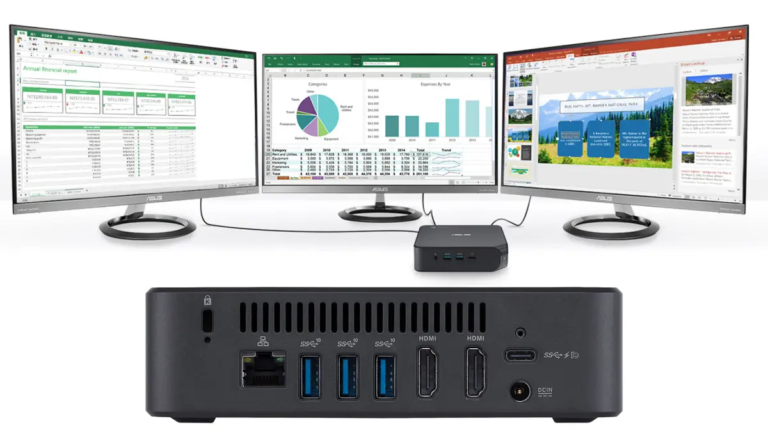 Triple-display productivity with true 4K UHD visuals
Integrated Intel® UHD Graphics on Chromebox 4 display videos and images in stunning 4K UHD resolution, and two HDMI ports and a USB-C® 3.2 Gen 1 port extend 4K UHD visuals to up to three displays for expanded screen size—allowing you to spread out documents, view mirrored content or extend a single browser across multiple displays for greater productivity. When the time comes to kick back and relax, you have plenty of screen with which to browse the web, view photos or watch videos in 4K UHD.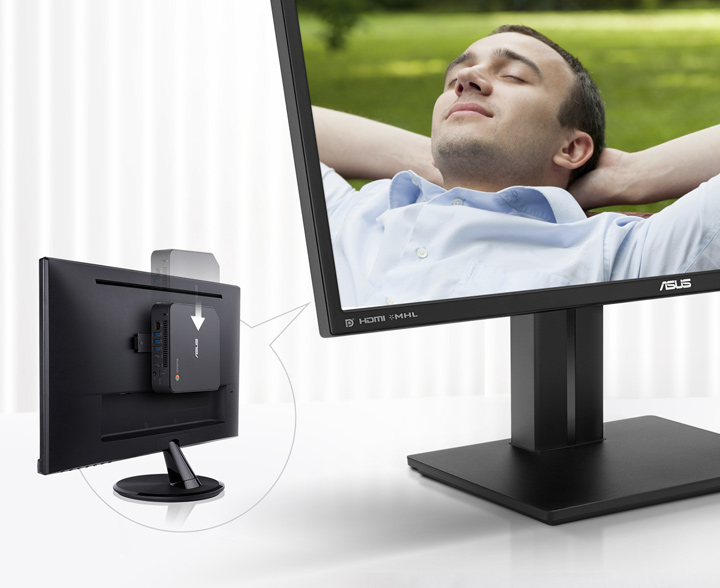 Lightweight, space-saving design
ASUS Chromebox 4 features a compact, space-saving design with chassis dimensions of 148.5 x 148.5 x 40 mm. Each device also features a newly designed lockable VESA mount that securely attaches to a wide range of surfaces. The VESA mount includes a screw-in rubber barrier that protects the surface of Chromebox 4 from everyday bumps and knocks. The VESA mount also allows you to attach the device to your display and turn it into your own customized all-in-one PC for a tidy, clutter-free workspace.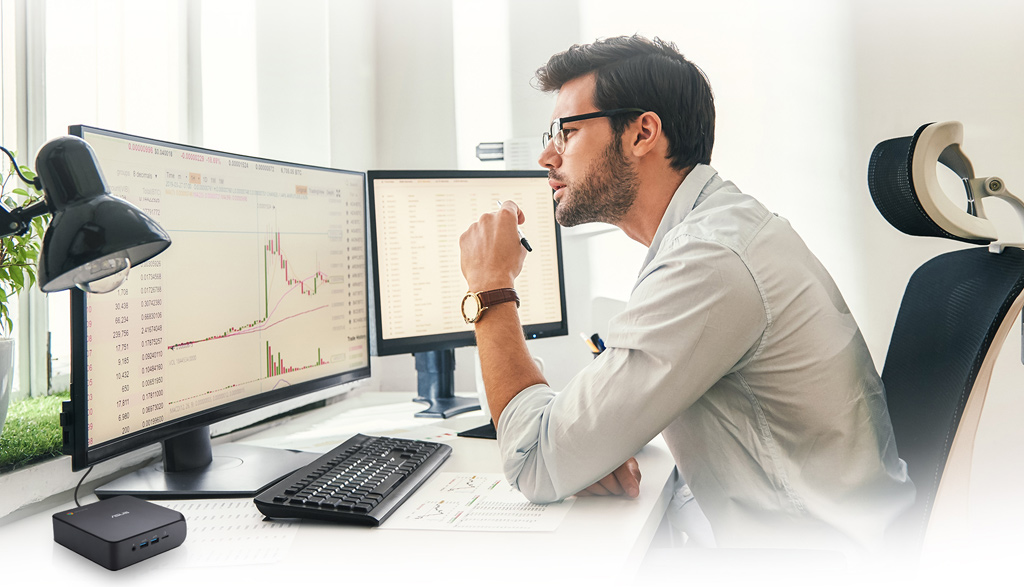 All-new ASUS Chromebox 4 features the power of 10th Generation Intel® Core™ or Celeron®processors.
Dual HDMI and USB-C®3.2 Gen 1 ports support up to three 4K displays.
Intel® WiFi 6 provides ultrafast network speeds.
USB-C®3.2 Gen 1 and USB 3.2 Gen 2 Type-A ports enable quick data transfers, and USB-C also supports power delivery and DisplayPort connections.
Automatic software and security updates protect the system from viruses, malware and other security issues.
Built-in Google Play support enables access to thousands of Android apps via the power of a mini PC.
New lockable VESA mount securely attaches to surfaces and offers expanded usage scenarios.