Visualize your ideas in a new and collaborative way


Unleash your team's creativity with Jamboard. Sketch your ideas whiteboard-style while benefiting from the access and connectivity of an interactive canvas, on mobile, or right from your web browser.
Drop images, add notes, and pull assets directly from the web while collaborating with team members from anywhere.
Create, collaborate, and bring your team's ideas to life
Jamboard unlocks your team's creative potential with real-time co-authoring. Experience unhindered productivity, whether your team is in the same room using multiple Jamboards or across the world using the Jamboard app on Android and iOS devices.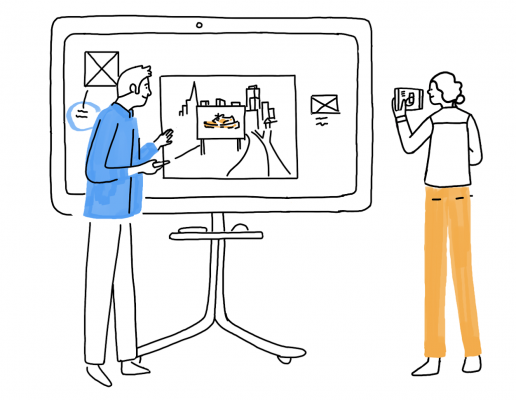 Richer, smarter, best of Google Quickly add multi-form content
Create & Collaborate in Real Time Anytime, Anywhere
Remote teams work just as well as if they were face to face
A customer story:
PATH architecture uses jamboard to collaborate and increase productivity.
Display
IPS LCD with LED backlight
Active screen size: 54.64″ diagonal (16:9)
Pixel pitch: 0.315 mm x 0.315 mm
 Pixel format: 3840 x 2160 pixels (UHD resolution)
Color depth: 10 bit(D), 1.06 billion colors
Luminance (white): 450 cd/m2 (center 1 point, typical)
Viewing angle: at least 178 degrees (all directions)
Contrast ratio: 1:1400 (typical)
Response time: 5.0 ms (gray to gray, typical)
Refresh rate: 60 Hz
Camera
Fixed lens
Focus distance: 3 m
Focal range: 83.5 cm to infinity
F-value: 2.75
Resolution and frame-rate: FHD@60 Hz
Horizontal field of view (HFOV): 73 degrees
Vertical field of view (VFOV): 43 degrees
Camera mounted tilt: -25 degrees
Inputs & Outputs
Side I/O plate:
• 1 HDMI 1.4 port
• 1 USB Type-C port with support for DP1.2 video input
• 2 USB 3.0 ports (Type-A)
Back I/O plate:
• HDMI 2.0 port
• Micro-USB port for touch-forwarding support and serviceability
• Optical S/PDIF digital audio output
• RJ-45 gigabit ethernet port
Physical inputs/indicators:
• 4 input buttons (side of the display): power, input select, volume up and down
• Power LED (front-bottom of the display)
• Camera LED (front-top of the display)
Network
Ethernet (RJ-45 on back I/O): 10/100/1000 Mbps

Wi-Fi 802.11a/b/g/n; 802.11ac (2.4 and 5 GHz)

Bluetooth 4.1

IPv4/IPv6

Network Time Protocol (NTP)

HTTP proxy support (on wireless connections)